Metapallet™
H A U L I N G & S T O R A G E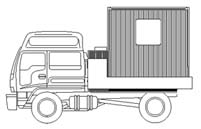 Metapallet is the originator of the metaCubic standard omni-modal pallet and container. Designed to meet the increasing demand for unitized packaging and shipping, the Metapallet extends automated handling utility from the warehouse to all the venues where people live and work.
The metaCubic omni-modal shipping and handling Standard is 2.3 meters cubed, sized slightly smaller than the interior dimensions of the Ocean Containers that they complement. Each forty foot ocean container can hold five metapallet-sized units, fitting like peas in a pod. (illustrate)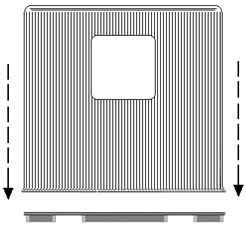 The size concept is founded on human scale, with the expectation that reuse for consumer storage is a strong market. The Metapallet container is large enough to set-up a king-size bed in it without touching the sides. Importantly, the size enables a broad array of secondary applications as small portable rooms or booths.
Rigid and weather-proof the containers are intended to protect the cargo from vermin and weather rather than people with tools. Additional security from theft or vandalism is provided by onboard electronics designed to monitor RFID tagged freight and communicate with automated handling systems using wifi and bluetooth.

The automated handling adaptations complement the onboard intelligence allowing the palletized freight to be routed from the issue of a bill of lading all the way to its final destination where its remote communications enable unassisted inventory and schedule adjustments.
The combination of size and automated handling creates an almost perfect production line manufacturing pallet because it travels with the produced goods all the way to their final destination.
The secondary market for the industrial production shipping units is as important as the primary and will make their cost more attractive.
-------